meet chef joya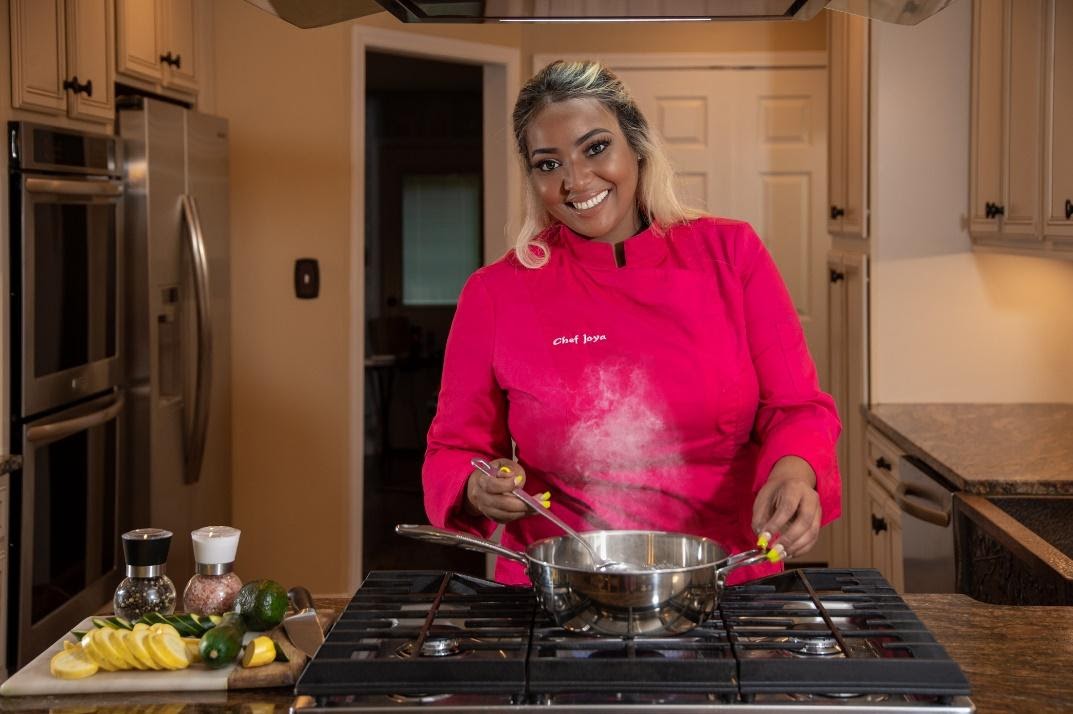 Adjoa Courtney, known professionally as "Chef Joya," has a passion for turning basic recipes into exquisite delicacies— a talent that has changed her life.
Growing up in Milwaukee, WI in the heart of the Midwest and raised vegan since she was seven years old, Joya spent a lot of time in her grandmother's kitchen absorbing the aroma of the food she cooked, along with the wisdom that her grandmother preached. It was during these early years that Joya became fascinated by other elders in her community and oftentimes befriended them in food havens, like international supermarkets, to obtain their authentic recipes.
After years of honing her culinary skills, she began to host dinner parties for her family and friends. She created mind-blowing and awe-inspiring dining experiences that left them amazed and wanting more. From there, she began to do vlogs and offer cooking lessons via her Instagram account, which subsequently became very popular with her social media fans and followers. With the love and support of those closest to her, Joya (who was at the time working primarily as a makeup artist and beauty professional), decided to pursue her childhood dream and became a personal chef.
Following the plant-based foundation of the food she grew up on, Joya began to "veganize" traditional recipes that typically contained animal products, which has since turned into her specialty. She wants her food to remind others who are transitioning to veganism, of the meals they enjoyed before they became vegan. As Chef Joya experimented with different cultural flavors such as Soul Food, African, Afro-Caribbean, and French, her recipes expanded to include cuisines from across the globe. Recognizing the need for vegan cuisine in many culinary genres, Chef Joya began teaching other chefs how to prepare plant-based meals for their clients. She is revered by both vegans and non-vegans alike and is arguably one of the best vegan culinary artists in all the United States.
Although Joya currently resides in Charlotte, she travels across the country winning the hearts and stomachs of communities near and far. She draws in vegans and meat-eaters alike and sells out venues wherever she goes. Joya, who loves all things bright, colorful, and unique, enjoys providing amazingly delicious—and magical— meals for everyone she encounters.
With several awards, successful restaurant collaborations and cooking competition titles under her belt, one can find Chef Joya experimenting with dishes, preparing for her next dinner party, where she provides great food, wonderful stories, and intimate five-star experience, or sharing recipes on Instagram YouTube via her channel, "Say What! It's Vegan?" Recent accolades include being named both critics' choice "Best Vegan Chef" and readers' choice "Best Chef" in The Best of The Nest 2019 issue of Queen City Nerve Alt. Weekly Newspaper and being a featured chef (the only vegan chef) on BuzzFeed's Tasty's social media channels.